AFTERNOON COFFE
with
#klimiskopi 
17 Agustus 2015 – Barn Coffe Bar Jogjakarta – Kranggan 25
15.00 – 21.00
Ketika trend dan gaya hidup berkolaborasi, dari ujung kepala hingga ujung kaki. Kolaborasi hebat Barn Coffe Bar, Power Off Pomade Store Jogjakarta, Tugu Barber Shop, Slick Hair Syndicate , Digital Creative Design , Shoes and Care dan Mavazi & Co.
Jalan Kranggan No. 25 Jogjakarta
Barn Coffe Bar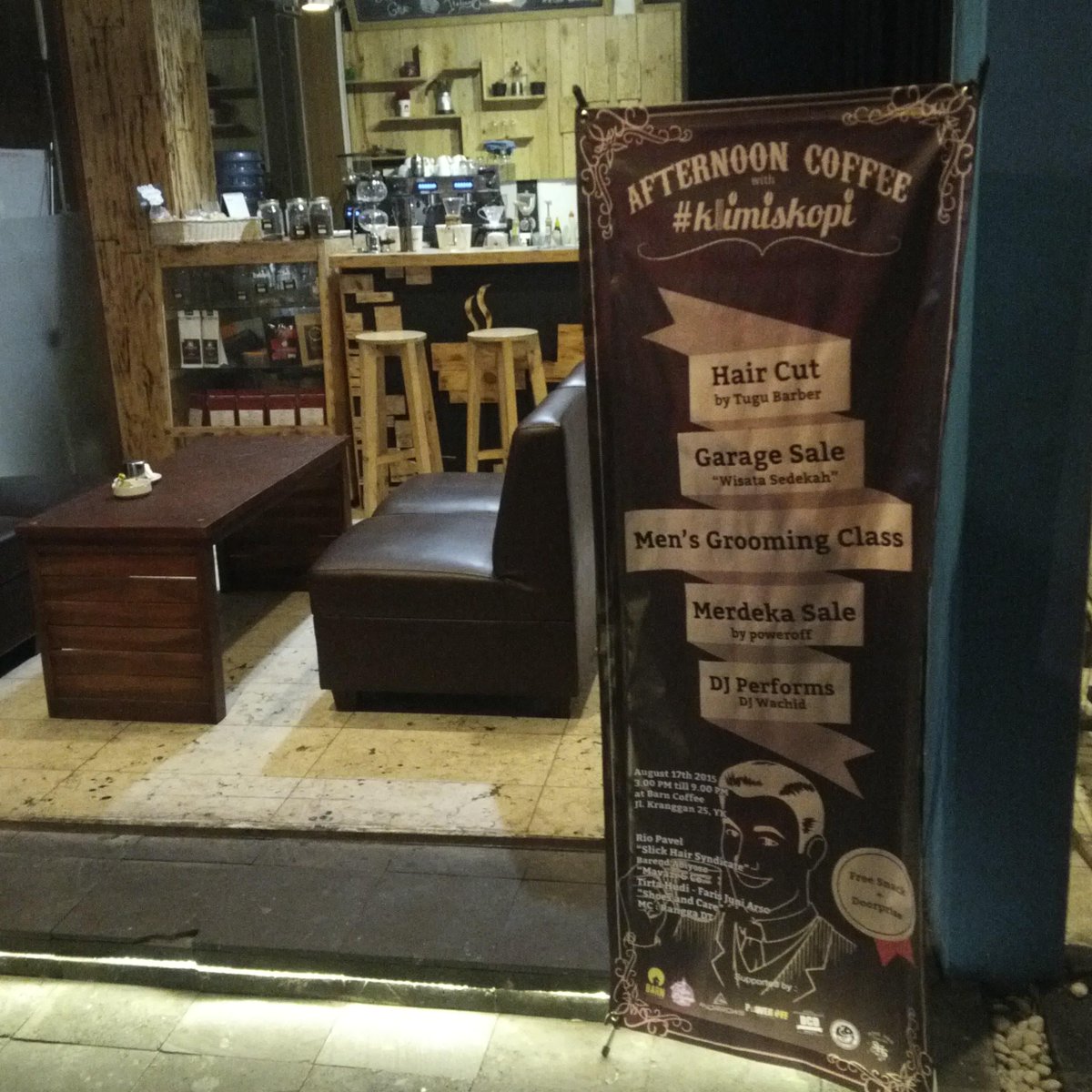 Jln. Monjali No. 179, Jogjakarta

TUGU BARBER SHOP
Jalan Pringgodani 1, Mrican Baru, Jogjakarta
SLICK HAIR SYNDICATE
Jl. Godean Km.10 Jogjakarta
Dengan tema #klimiskopi, standing ngopi bersama mengkolaborasi man's grooming class, hair cut, ulasan fashion, hingga ulasan mengenai alas kaki/sepatu.
Bertepatan dengan hari Kemerdekaan RI yang ke 70 dengan tema "AYO KERJA"
Sinergi kolaborasi manifestasi 'AYO KERJA' dari rekan-rekan penyelenggara #klimiskopi.
Hair Cut didukung sepenuhnya oleh Tugu Barber Shop, Promo MERDEKA SALE  dari POWEROFF pomade berupa diskon sebesar 17.000 untuk Pomade Import dan beberapa item tertentu, Man's Grooming Class yang akan di isi oleh Rio Pavel dari Slick Hair Syndicate Jogjakarta membahas ulasan mengenai Man's Grooming dan dinamikanya di Indonesia, Ulasan mengenai Alas kaki dari Shoes and Care
Dimeriahkan dengan DJ Perform dan Free Snack dan Doorprize menarik tentang Gentleman Lifestyle tentunya.
Start dari jam 3 sore hingga 9 malam bertempat di Barn Coffe Bar, Kranggan 25 Jogjakarta.
Bagi siapa saja yang ingin tahu lebih dan menambah silaturahmi dalam komunitas , silahkan sempatkan waktu dan ajak teman-teman penikmat kopi, gentleman lifestyle dan siapa saja monggo merapat dalam acara tersebut. #klimiskopi
#klimiskagemsedanten